(note: from
(16/03/2007)
Thailand Government Official News
)
Rainmaking Operations to Ease the Drought Situation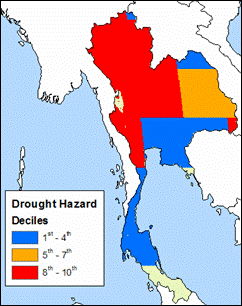 Several provinces in Thailand are facing a drought problem.

The Ministry of Agriculture and Cooperatives is launching rainmaking operations to increase the amount of water available to cope with the drought situation.
Minister of Agriculture and Cooperatives Thira Sutabutra said that the current drought situation has affected many areas, especially those in the northeastern region.

However, in the overall picture, the situation is unlikely to be severe.
The water volume in the 31 main reservoirs across the country now stands at 54,800 million cubic meters, compared with about 50,000 million cubic meters over the same period last year. So it should be enough for consumption and agriculture this year.
Minister Thira said that the Bureau of Royal Rainmaking and Agricultural Aviation has established eight regional rainmaking operations centers covering 76 provinces in 25 major water basins.

The centers began operations last month and will continue until the end of April.
About 120 million rai, or 48 million acres, of farmland are expected to benefit from the operations.
People in affected areas may request the rainmaking service at these centers, or at all provincial offices under the Ministry of Agriculture and Cooperatives.

A total of 25 aircraft are being used in the service. Out of this number, 20 belong to the Ministry of Agriculture and Cooperatives and the remaining five have been borrowed from the armed forces.