(note: information is from the
NDSWC website
)
NORTH DAKOTA STATE WATER COMMISSION
Cloud Modification Project
History of Program:
Operational cloud seeding got its start in North Dakota in the 1950s, when ground-based seeding activities began in the west.

By the late 1950s, hail was recognized as the greatest weather-related threat to small grain crops; many growers suffered significant hail damage or total losses in back-to-back years.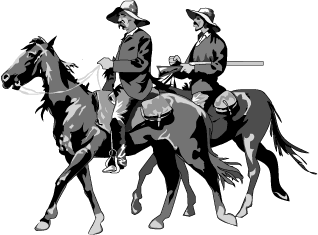 The beginnings of what is today's North Dakota Cloud Modification Project came about when Bowman County farmer-rancher Wilbur Brewer joined forces with pilot neighbors Bill Fisher and Bill Mazaros to from Weather Modification, Incorporated, the state's first all-airborne commercial cloud seeding company.

Seeding first for just a few townships, then later entire counties, the program expanded and spread eastward throughout much of North Dakota.

The program at that time was entirely locally sponsored.
In the early years, silver iodide was the seeding agent, released in the updrafts of mature storms perceived to pose a hail threat.

Though little was known about how the hail suppression effect came about within the clouds, the results were positive.

In 1975, support from the State of North Dakota was sought, and the North Dakota Weather Modification Board was created as a division of the Aeronautics Commission.

In 1976, state cost-sharing was available for the program for the first time, and a total of 17 counties participated in the NDCMP.
Within the next few years, participation diminished sharply in the eastern portion of the state, but remained in the west.
As cost-sharing dollars were pared from the board's budget, additional counties dropped from the program in the west.

However, in the last dozen years, only four counties have left the program, although a portion of the last to leave rejoined the program for the 2000 project season.

A resurgence of interest has recently developed after several very positive evaluations of the NDCMP, prompting, in part, the addition of Williams County to the program in 1997.
Roughly half a million federal dollars per year were pooled with the available state resources to collect and analyze thunderstorm data.

Major field efforts were mounted every three to four years, while analysis efforts filled the years between field efforts.

A great number of technical papers from this research program were included in national scientific publications.

The program, unfortunately, was a budget casualty in 1994, but renewed efforts are underway to involve the federal government in cloud seeding research.
The North Dakota Cloud Modification Project (NDCMP) is an operational program that seeds clouds for hail reduction and rain enhancement in all or parts of six counties in western North Dakota.

Counties currently participating in the program are Bowman, McKenzie, Mountrail, Ward, Williams, and part of Slope.