(note: excerpts from
NAWC's website
)

North American Weather Consultants, Inc.
8180 South Highland Dr., Suite B-2
Sandy, Utah 84093
North American Weather Consultants (NAWC) is one of the longest-standing private meteorological consulting firms in the United States.

In 1970, NAWC received the American Meteorological Society's prestigious
Award for Outstanding Services to Meteorology by a Corporation
"for its pioneering the practice of private meteorology in the United States..."

We have been providing high quality, innovative consulting services to clients domestically and abroad for more than 50 years.
Corporate History
NAWC has provided meteorological, weather modification, and air quality consulting services since its establishment in 1950.


NAWC operated as a private corporation until being acquired by a large, publicly-traded corporation in 1992.

In 1999, NAWC separated from the parent firm, resuming its operations as a private corporation.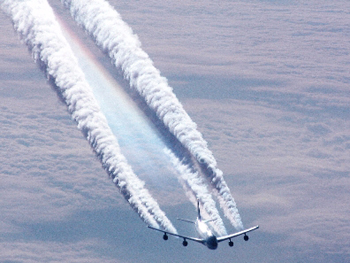 NAWC was established in the Santa Barbara, California area in 1950 and maintained its headquarters there until 1980, when the corporate offices were relocated to Salt Lake City, Utah.

Our offices are currently located in Sandy, Utah, a suburb of Salt Lake City.
Snowfall and Rainfall Augmentation
North American Weather Consultants has conducted more than 200 weather modification projects involving snowfall or rainfall augmentation world-wide since 1950.

These programs have been designed to increase the naturally occurring rainfall or snowfall in a selected target area by utilizing cloud seeding agents to increase the efficiency of the natural precipitation process.

The most common seeding agent is microscopic sized particles of silver iodide. These silver iodide particles are dispersed either from the ground or aircraft.
We also have experience using less common seeding materials for specialized applications.

Typical precipitation increases from the programs range from 10 to 15 percent (in wintertime cold climate areas) to 20 to 25 percent (in more maritime tropical regions) over what would have occurred naturally.

Users of this technology range from irrigation districts, municipalities, hydroelectric facilities and recreational areas (ski areas).
Feasibility/Design/Evaluation Studies
North American Weather Consultants not only conducts operational cloud seeding programs, but has also been intimately involved in numerous research oriented cloud seeding programs since the mid-1950's.

This combined operational and research experience allows us to access the feasibility of conducting a cloud seeding program for snowfall or rainfall augmentation in a given area, design an effective program and evaluation method if a program appears to be feasible, and evaluate the effectiveness of cloud seeding programs.
In weather studies and weather modification research, North American Weather Consultants has utilized aircraft to obtain measurements within clouds, including temperature, dew point, water content, ice particle concentration, and wind direction and speed.

Further, an atmospheric tracer, for example sulfur hexafluoride, can be released from either a ground or airborne location, then tracked by an aircraft equipped with a special real-time analyzer that can detect minute concentrations of sulfur hexafluoride downwind for tens of kilometers from the source.
These airborne observations can be utilized to assess the seeding potential of different cloud forms affecting a given area. Use of an atmospheric tracer released upwind of these cloud forms can be used to assess the effectiveness of different seeding locations.

Airborne tracer measurements have also been conducted to address air quality and pollutant dispersion issues, in an ambient air context as well as in tracking point/facility source plumes.
Technology Transfer/Seeding Equipment
Cloud seeding programs can be designed to address specific meteorological conditions and client needs. Qualified client personnel can work with our personnel learning cloud seeding techniques.

Given adequate cross-training of personnel, the client personnel can gain the necessary skills that will eventually allow them to assume the on-going responsibility of conducting a successful cloud seeding program.
In the years of involvement in conducting cloud seeding programs, we have developed and installed a variety of specialized equipment and computer software.

Examples include manual or remotely controlled ground-based silver iodide generators and airborne silver iodide pyrotechnic dispensers.