(note: Although most national weather organizations do not readily disclose weather modification activities, the technology exists in many countries. Below we offer information about an intriquing blend of cellphone towers and weather observational equipment currently being used in Finland)
The
Finnish Meteorological Institute
(FMI) and the Vaisala meteorological measurements company have initiated a program to establish a new
mesoscale
observational network in Southern Finland.
The Helsinki Testbed
is expected to provide new information on observing systems and strategies, mesoscale weather phenomena and applications in a coastal high-latitude environment.
(image left of recent radar and measurements over Finland, from
testbed.fmi.fi,
click for detail)
The goal of this project is to provide input and experience for mesoscale weather research, forecast and dispersion model development and verification, information systems integration, end-user product development and data distribution for the public and the research community.
A dense network of nearly 60 stations equipped with
Vaisala WXT510
weather transmitters will be installed. Of these stations, 42 are cellphone base station masts that have been converted to meteorological towers by installing weather transmitters on them (two or three transmitters at different heights, to get bulk profiles of temperature, humidity and stability).
(image right of Vaisala WXT510 weather transmitter, from
edie.net
)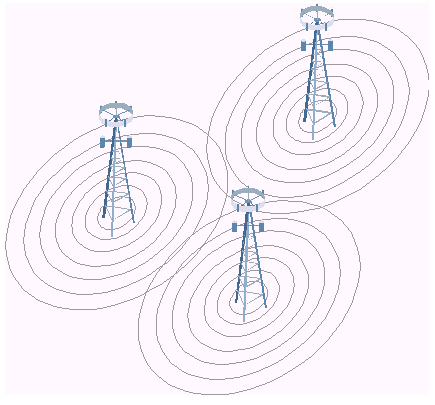 (image above of cellular system concept, from
encyclopedia2.thefreedictionary.com
)